Command The Crowd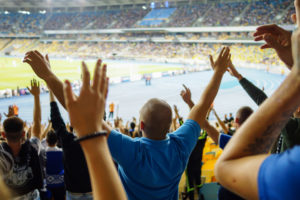 Sound Director is the evolution of our popular Game Ops Commander product, and it takes the industry leader in event audio presentation software to the next level!
Take a look at some of the new features we've incorporated in Sound Director. Many of which are enhancements our current GOC customers have been asking for. Below are just a few of the highlights:
Audition Mode – Have you ever wanted to listen to a cut on a monitor speaker or headphones without sending it out through your public address system, and still be playing something else on your PA? We thought so. Sound Director has the ability to do just that – all from a standard sound card! Cue up or even "clip-edit" a song on the fly while still keeping up with the game as you continue to play music or sound effects!
Built-in Editing – Not only have we "supercharged" our clip editor in Sound Director, but we've also added a built-in editor right in to Sound Director. When you want to edit a song, just right-mouse click on the button and a fully functional audio editor will be at your fingertips.
Normalize – Do you have some songs and sound effects that are always sound too loud, or even as frustrating, too soft? Sound Director can now, on the fly, normalize all your songs, crowd prompts and sound effects so you'll never have to wonder or worry if the next thing you play will be too loud or too soft. It will be just right – every time!
Audio Effects – We've added things like, pitch control, tempo, reverb, and delay — that can all be used on the fly. We've also given our loop feature a huge boost by having the ability to loop a file. And we've even added VU meters so you can monitor your output level.
"UN-Loop" – We've added a loop feature you won't believe, and won't find anywhere else! It lets you loop the intro (or any other part) of a song, and then with one click you can UN-Loop it so it continues to play the rest of the song. It's truly unique. If you've ever wanted to play a looped music bed under a PA announcement and then UNLEASH it at the end, now you can! It's perfect of intros for dance teams or other promotions, and you'll ONLY find it in Sound Director!
We have three levels of Sound Director to choose from:
Sound Director Standard
Sound Director Premium
We also have an Express edition that allows access to the most basic features of Sound Director. This version may be useful for some non-profits or high schools just beginning to enhance their event presentation. For a small investment Sound Director will give you all the latest advancements in-game presentation software. Upgrades to Sound Director are offered to all our customers using any version of Game Ops Commander.
Look What People Are Saying About Sound Director
"We looked at all the systems on the market and Sound Director offers more than what any of the competition does . . . and it is very easy to use"
Brian Carroll
Director of Public Relations
Tulsa Drillers