Pro Venues – The perfect tool for your situation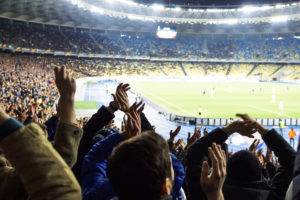 Sound Director is definitely the "Choice of the Pros" No matter what type of sport or event you're working, Sound Director is up to the task. We have installations all across the U.S. and Canada . From small arenas up to 100K seat stadiums, our system will give you the features you need for a professional presentation.
There are a lot of factors that go into a good live event presentation, but one sure way of enhancing an event and keeping that event lively and fun is the addition of well-timed audio & video enhancements. Playing the right song, the right crowd prompt, the right sound effect and the right video clip at the right time can and will provide excitement for your audience. That excitement will feed off itself and make for a very enthusiastic crowd. Sound Director makes it very easy to access any number of selections to achieve that goal of entertaining your fans.
For more than 25 years, we've incorporated many of the feature professionals want. From cross-fading between selections, on-demand search, and Audition mode, we've designed Sound Director specifically for you the professional.