Mobile DJ's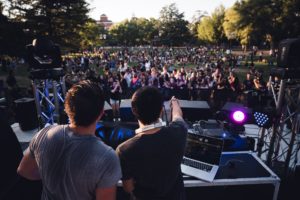 We know you have high demands for your shows. We know that your catalog of music selections can be in the thousands. We know you want a professional product that can easily be integrated into your shows. Sound Director is perfect for DJ's. Whether you're working sporting events, wedding receptions, school dances, or corporate events, Sound Director has the ability to keep up with your pace.
One of the features DJ's have told us they like about Sound Director is the ease of finding any song within just a few seconds. We've incorporated the most robust search feature ever in Sound Director that can search by title, artist, album or genre. It's "smart search" driven so you will easily find the song or songs you're looking for. Using Sound Director and having instant access to all 40,000+ cuts on your laptop or tablet will make your job so much easier!
Our Sound Director versions includes many of the audio effects and editing on the fly you demand. On the fly pitch control, tempo control, reverb and delay are just some of the effects Sound Director gives you at your fingertips. And with our audition mode you can mix songs into your live mix with ease!
Contact us and find out why more and more DJ's are choosing Sound Director!
Look What Others Are Saying About Sound Director
"I had to have the best possible playback AND the easiest and most intuitive user interface possible. Your software is all that and more!"
Paul Fabre
Sound System Designer, Long Beach Arena